Simple Perennial Bed
A garden does not have to be large or elaborate to make an impact. A small space can be both attractive and provide some natural habitat for resident species fo birds and insects. This flower garden does both planted only with native species. This garden provides color and nectar from spring through fall.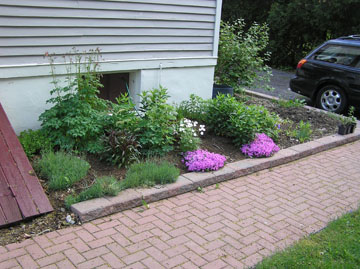 Species list: Wild columbine, Summer phlox, Creeping phlox, Dianthus, Smooth Penstemon, Bee balm, Wild geranium, Blazing star, White baneberry, False solomon seal, Solomon seal, White trillium, Canada anemone. The site has 1/2 day of sun.
this page posted Feruary 20, 2008