Species Name: Aquilegia canadensis
Common Name: Wild Columbine
Zone: 3 to 9
Distribution: Nova Scotia to Saskatchewan south to Florida and Texas.
Seed collection: Seed matures in late may to early June in western New York. Seed is contained in upright capsules. The capsules change from green to brown when they mature. As they dry the top of the capsule splits at the top allowing the seed to spill out when blown and tossed by the wind. Each capsule may hold many dozens of seed. The seed is quite small, the size of granulated sugar. Collect capsules when they begin to turn brown. Capsules do not ripen all at once; the capsules ripen over a couple week period spaced by the staggered pollination of the flowers.
Seed handling: Seed can be stored dry in a paper or plastic bag until planted. Subject seed to outdoor temperatures; to satisfy the chilling requirement or store in a refrigerator until needed.
Germination requirements: Seed will germinate after 2 to 3 months cold/moist stratification, or sow immediately after collecting with germination occurring the following spring. Seed germinates quite readily after treatment. Seedlings grow quickly and generally flower the second summer.
Ecology: Wild columbine grows in full sun to moderate woodland shade. It is generally found in dry to medium well-drained soils of low to moderate fertility. It prefers circumneutral limestone soils with pH 6.8-7.2. Drought tolerant.
Individual plants are short lived but it readily self sows to maintain the population.
Establish columbine in dry open woods, wood margins, on slopes and rocky outcroppings. It provides abundant nectar and is a favorite of hummingbirds, butterflies and other insects that can reach the nectar. Is moderately deer resistant.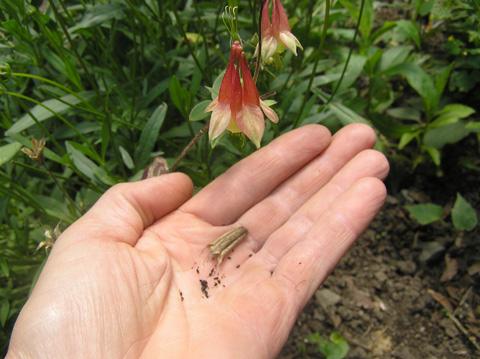 Collect capsules after they have dried and turned brown but before the seed has been dispersed.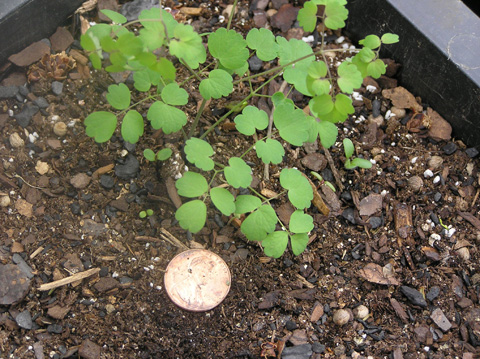 this page updated February 20, 2010