Species Name: Elaeagnus umbellata
Common Name: Autumn Olive
Origin: eastern Asia to Japan
Distribution: Found throughout the eastern US
Identification: Autumn olive is a large multi-stemmed shrub or small tree that grows to about 20 ft tall and as wide or wider.  Stems are long, slender and arching.  Open grown plants are often wider than tall with branches arching to the ground. Trunks on older plants 15 to 20 years old can reach 6 to 8" in diameter but most stems are 2 to 4" diameter.  The bark is light gray and smooth on most stems but can become roughened on large old stems. Young stems and twigs are lined with long straight stiff spines. The wood of AO is white in color.  Plants are covered in creamy white flowers in late spring followed by copious quantities of small rusty-red fruits with silvery speckles. Leaves are opposite along the stems, elliptical or ovate and often have a slightly wavy margin; light grayish green in the spring turning dark green, underside of leaf has a silvery appearance.
Diagnostic characteristics:
Look for sharp straight spines along the slender stems and twigs.
Yellowish to creamy white fragrant flowers are prolific and cover the plant in mid may/late spring.  No other plants flower at the same time.
Bark is smooth light gray. Winter twigs tips appear yellowish white and can be spotted from a distance. Only the native plant spicebush may be mistaken for autumn olive if sharing the same habitat, because of similar growth habit and smooth bark. Spice bush does not have spines and the bark is more brown than gray.
Arching habit of the stems is diagnostic. Main stems never grow straight but curve outward from the base.
Underside of leaves have a silvery or whitish sheen that is distinct when the foliage is turned over. No other native plants have this sheen.
New growth emerges silvery green and stands out against other darker richer greens. 
Small rusty red fruits with silvery dots in the fall.
                                                 
Biology and Spread: Autumn olive is able to fix atmospheric nitrogen which allows it to thrive in infertile dry soils.  It grows extremely fast in full sun and tends to out grow and over top most native shrubs in the same habitat.
It establishes very easily in old fields, in grasslands and in dense herbaceous vegetation that usually prevent the establishment of woody plants. This ability gives it a head start over many native species. AO is a serious threat to open field habitat that supports declining grassland birds.  Once a few plants become established near open habitat it will quickly spread and proliferate in the open space if not quickly controlled.
If Autumn olive has a weakness it is that it does not grow well in shade.  When competing with other plants for sunlight it will grow upwards towards the sun with one or two main stems and few lower branches. When it becomes overtopped by other trees it will begin to decline over time, but this is a slow prolonged decline and not an effective control strategy as AO grows too large and fast for competition to be effective.  Wood of AO is light and prone to rot.  Dead stems and branches quickly decompose.
Deer do browse on new growth of AO but they do not have a significant impact on growth or survival of AO; the same is true of meadow voles on young AO seedlings. Any damage caused by deer and voles is quickly replaced with new growth and vigorous new sprouts.
Ecological threats: Autumn olive is an aggressive invader of abandoned fields, road sides. hedgerows, forest margins and waste places. AO germinates and establishes easily in any open sunny habitat. Prolific fruit production and its attractiveness to birds enables it to rapidly disperse from nearby seed sources. It is especially adapted to dry gravelly or sandy soils where it proliferates often forming a dense impenetrable monoculture. The combination of abundant fruit production, ability to fix its own nitrogen, tolerance to dry sterile soils, rapid growth and ease of reproduction allows autumn olive to quickly dominate any place it becomes established.
Once autumn olive becomes established it will shade the ground beneath its canopy and exclude all other plants from growing in its shade.
Its sprawling growth habit, dense branching and sharp spines of AO has a serious impact on the recreational use of an area by people by covering a large area and restricting access.   One large plant can easily occupy 300 to 400 square feet and this area is then lost to all other uses both human and biological. Clusters of plants can quickly create an impregnable barrier as individual plants expand outward and their branches begin to merge and coalesce.

Control methods:
1) Cut Stump Treatment:
Cut stump treatment is a very effective control method for autumn olive. If available use a forest clearing saw. The wood of autumn olive is light and weak and easily cut. Even very large stems cut easily. Most stems take only a second or two to cut and treat.  
A lightweight chain saw also works well for cutting medium to large diameter stems. One limitation of a chain saw is the difficulty of reaching the base of sprawling plant to cut and treat the stem.  Large numbers of stems can make it time consuming to cut compared with a FCS.
All cut stems need to be treated with a herbicide as AO readily resprouts from the roots.  A 10% to 15% solution of glyphosate (the active ingredient in Round-up) or triclopyr (the active ingredient in Garlon) is applied to the cut surface. Follow the label direction when mixing to be in compliance with NYS pesticide law. Glyphosate is the preferred material as it is considerable cheaper than triclopyr, just as effective and easier to acquire. Use a hand held spray bottle for applying the herbicide to the cut stem. Add a spray colorant to the bottle so you can tell which stems have been treated. 
2) Basal Bark Spray:
 Basal bark sprays are very effective for controlling small, medium and large autumn olive plants.  Basal treatments are fast and effective for treating large multiple stemmed plants. Each plant takes less than a minute to treat. The limitation to using a basal bark treatments as with mechanical control methods is the difficulty in gaining access to the base for treatment.
Triclopyr (the active ingredient in Garlon) is the preferred herbicide to use for basal bark treatments. It has been demonstrated to be more effective than glyphosate in controlling AO.  Mix a 20% solution of triclopyr with Bark Oil Blue. Apply the mixture using a spray bottle or backpack sprayer.   Spray the full circumference of the stems from the soil line up to about 12" to 18" from the ground.  Wet the bark thoroughly but not to the point of runoff. Control will still be effective even if all of the bark surfaces or stems are not treated.
Use basal treatments from late spring, through summer, fall and winter, until late winter.  Plants can be treated when actively growing in full leaf or when dormant with equal results. 
3) Foliar sprays:
 Foliar sprays using triclopyr and glyphosate are effective in controlling autumn olive. Read the herbicide labels for recommended rates.  Spray the foliage when in full leaf, good coverage is necessary for complete control.  Triclopyr is more effective from late spring through early summer and glyphosate is more effective later in the year from mid summer through fall. The down side of foliar treatments is the difficulty of covering the foliage of tall and large plants without a lot of over spray and wind drift. Both herbicides will kill non target plants from over spray and spray drift. Smaller plants tend to have a few long slender stems that are difficult to treat without affecting non-target plants and larger plants are so large that they require large amount of herbicide to thoroughly cover the plant.  For this reason a cut stump treatment is recommended over foliar sprays.
4) Manual control:
Manual control is not really an option for AO except for very small seedlings or ones growing in sandy soils. Small seedlings and saplings may be pulled out by their roots but most plants are too large to easily remove by pulling.  A weed wrench or similar device can be used to pull small to medium sized plants. A weed wrench is not very suitable for pulling AO because of the multi-stemmed growth habit of AO and the sprawling arching stems.

Autumn olive in flower growing along the thruway.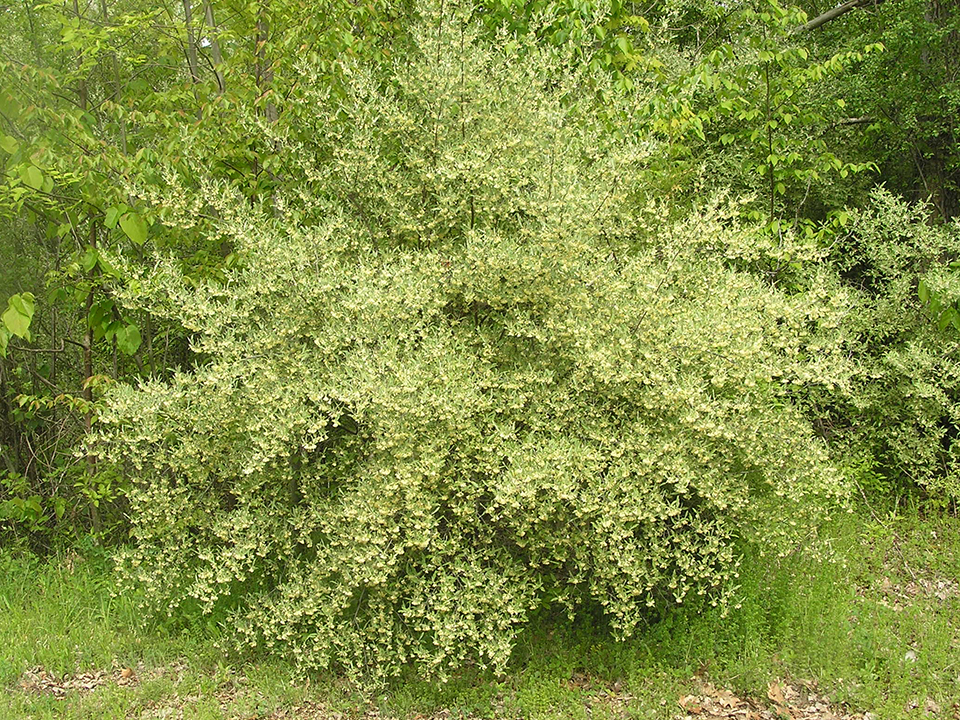 Large Autumn olive in flower, note the broad arching growth habit of the plant.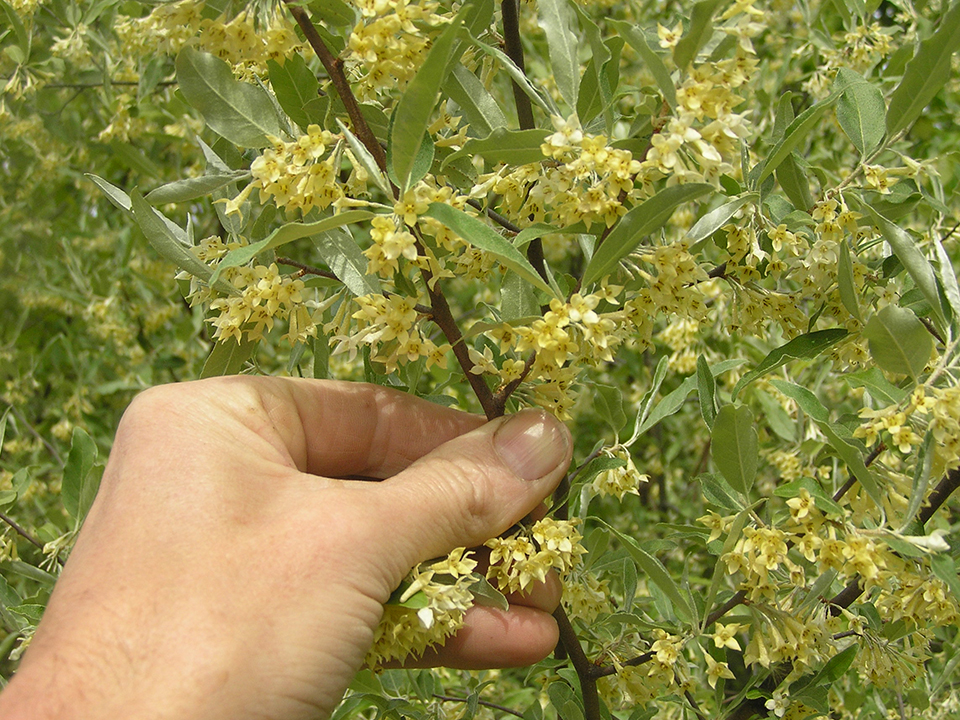 Autumn olive is know for prolific flower production in spring. Notice the slender leaves with a silvery white color on the underside of the leaf.
The twigs and branches also have sharp spines.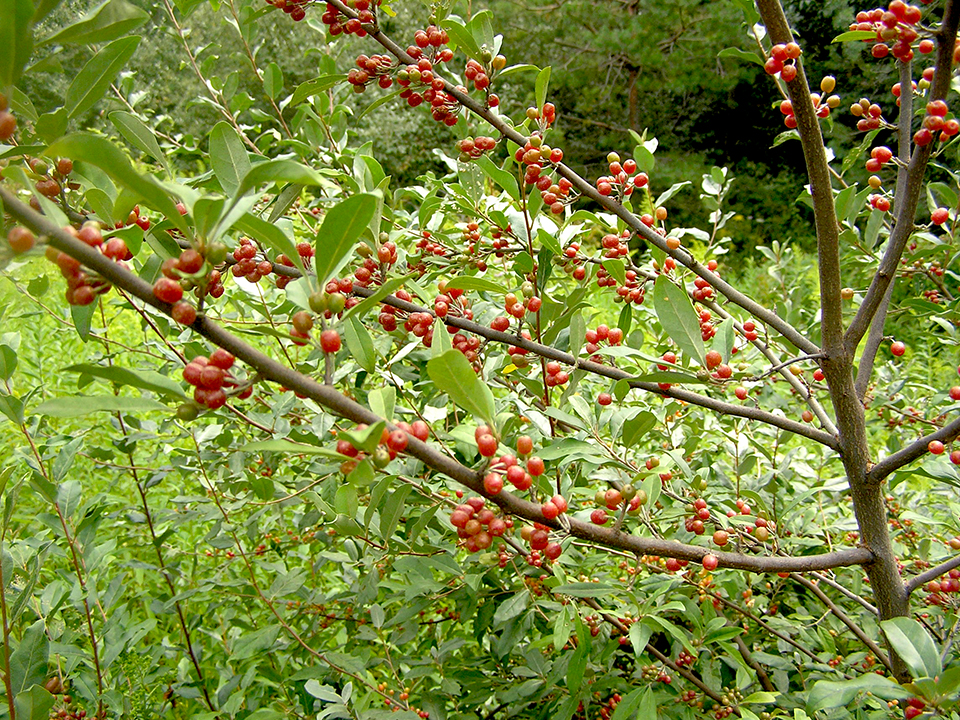 Autumn olive produces loads of small rusty red fruit in fall, which is one reason it is so invaisve. Even very young plants flower and fruit.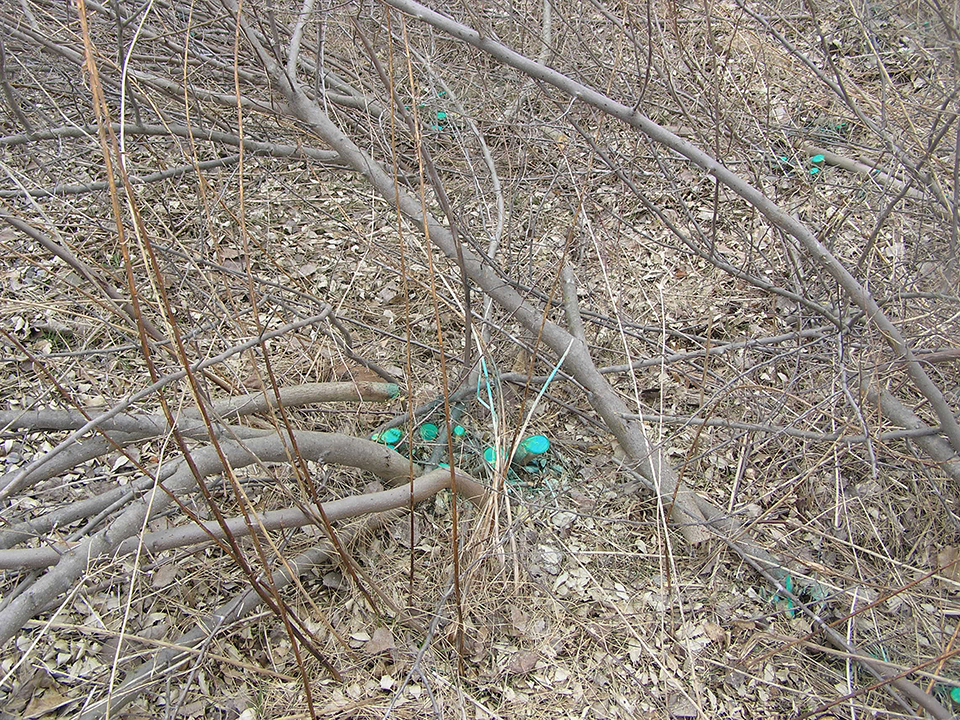 Stump of Autumn olive cut off at ground level and treated with glyphosate. A blue dye was added to the herbicide to indicate that the stump was treated.