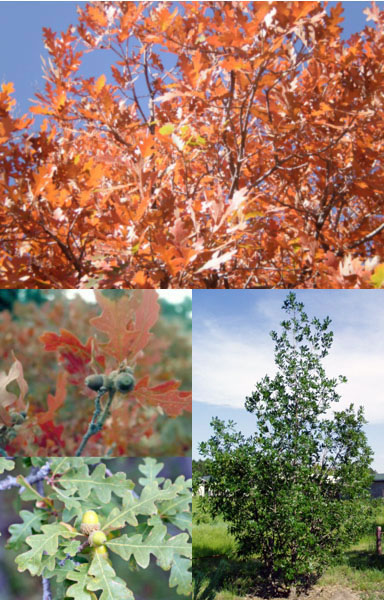 Gambel oak also called Scrub oak is a small to medium sized tree native to mountains of the west. Gambel oak makes a very tough durable small tree for planting in the urban environment. Its tolerance of very extreme conditions make it ideally suited for use along streets, in parking lot islands and in tree pits plus it's small size allows it to be planted near overhead power lines and in small spaces.
Ornamental features:
Small 5" long glossy dark green leaves, showy fall color.
Long lived. Short compact form.
Wildlife value:
 Excellent wildlife tree especially in its native range. The small sweet acorns are eaten by large and small mammals and birds.  The foliage is browsed by deer and elk.

Horticulture profile:
Zone 4 to 7
Grows 15 to 30 ft Tall x 10 to 15ft Wide.
Slow to medium growth rate, 10 to 15 ft over 10 years.
In the wild it forms clonal clusters from root sprouts.
Will grow in acid to alkaline soils in sand, gravel and clay.
Tolerant of extremes of wind, heat and drought.
Native to the lower elevations foothills of many western states from Utah, Colorado, Nevada south to New Mexico and Arizona