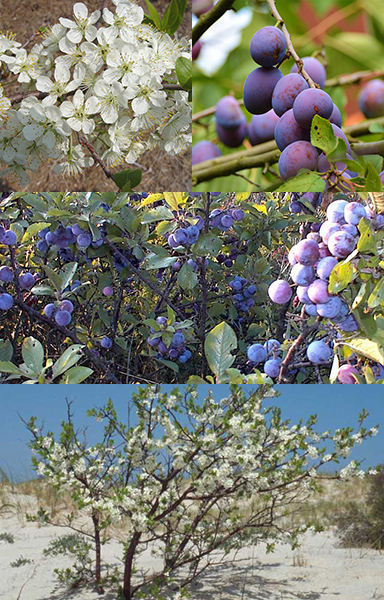 A good plant for naturalizing in any well drained soils.  Typically found growing along the coast in coastal sand dunes it can be utilized to perform difficult landscape functions. Plant it to cover steep barren slopes, in hot, dry conditions in parking lot islands or against an exposed concrete wall.  It also provides valuable shrub habit under difficult growing conditions.
Ornamental features:
A tough compact suckering salt tolerant shrub.
Early spring flowers from late mid-May to June.
Fruit can be made into preserves and fruit, although tart, may be eaten fresh. Fruit is showy in season.
Wildlife value:
A desirable plant for naturalizing in poor sandy soils.
Small 1" diameter fruits are consumed by many animals.
Dense shrubby stems provide nesting and resting cover.

Horticulture profile:
Zone 3 to 6   Native from coastal Maine to Virginia
Grows 3 to 6 ft Tall x unlimited spread from suckers.
Spreads by seed and suckers to form large colonies.
Flowers bloom in mid-May to June.
Adapted to sandy - gravelly well drained soils found along coastal sand dunes. Tolerant of salt and sterile soils.