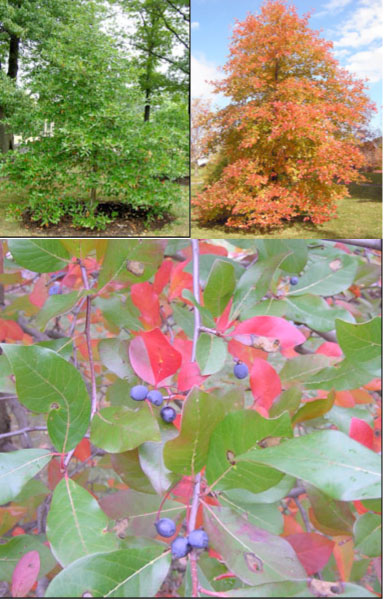 One of the top ornamental trees.  Offers shapely form, lustrous foliage and stunning fall color. Use as a specimen tree, but better planted in groves, or combined with other trees and conifers for maximum color and contrast.  Plant near ponds, streams and wetland areas.  Use to improve bird and wildlife habitat.
Ornamental features:
Dense, symmetrical pyramidal branching and form.
Lustrous dark green waxy leaves.
Fall color a fiery red to fluorescent pink.
Wildlife value:
One of the few large trees to produce fruit.
Small purple fruits consumed by over 30 bird species.
Important forest tree for swamps, flood plains and wetlands
Horticulture profile:
Zone 4 to 9
Grows 40-60ft Tall x 20-30ft Wide
Slow to medium growth rate, 10 -15ft in 10 years.
Grows naturally in wet poorly drained soils to dry upland sites.
Requires acid soils below 6.5 pH.
Native from southern Maine to Florida