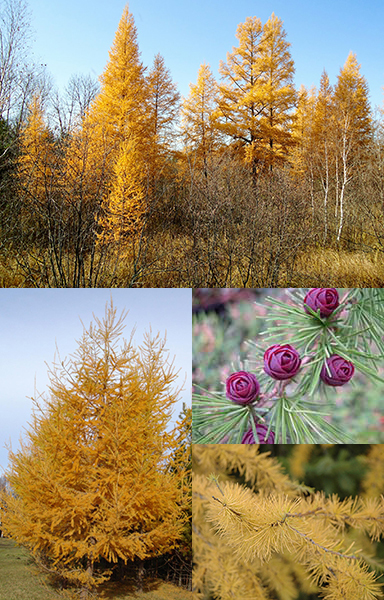 Tamarack, also known as American or eastern larch is a deciduous conifer, found naturally in cold wet swamps in the northern states and Canada.  Not planted as often as European or Japanese larch. Tamarack is better suited to wet poorly drained soils. It is best planted in groupings set against evergreen conifers or mixed with other wetland adapted trees such as Black gum or Red maple that sets off the golden fall color.
Ornamental features:
Wide spreading pyramidal open crown with a slender trunk.  Branches are horizontal with drooping branchlets.
Short soft bright bluish green needles.
Needles turn golden yellow in September-October. Fall color is stunning before the needles drop for winter.
Wildlife value:
Valuable conifer tree for wet soils.
Seeds eaten by birds and rodents.
Horticulture profile:
Zone 2 to 4
Grows 40 to 60 ft Tall x 15 to 20 ft wide.
Slow to medium growth rate, 8 to 10 ft in 10 years.
Prefers moist to wet, acid soils where it grows naturally.
Transplant into moist fertile soils under landscape conditions. Acid to Neutral pH.
Full sun or half shade. Not very shade tolerant.
Native to Alaska, northern Canada south to northern PA,