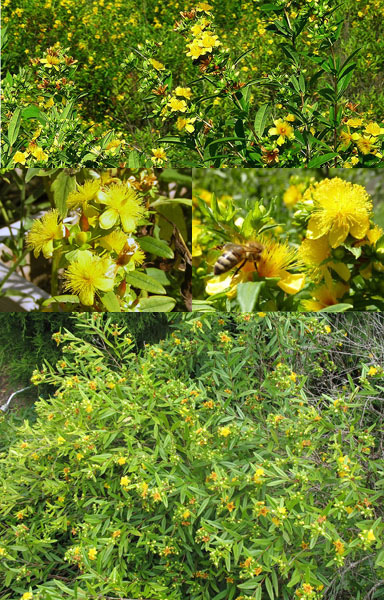 An exceptional native shrub for foliage and flowers. Covered in yellow flowers from late June through August it makes for an attractive foundation plant. Shrubby St John'swort has a dense compact low growing habit and is hardy and reliable in dry, hot soils. Use in the shrub border for massing or wherever a low growing flowering shrub is required. Can also be used in commercial plantings, planter boxes, parking islands where growing conditions are challenging.
Ornamental features:
Abundant 1"diameter buttercup yellow flowers.
Long 2 to 3 month bloom period.
Dense rounded outline seldom requires pruning.
Pest free light-green foliage.
Wildlife value:
Abundant nectar is a magnate for butterflies and insects.
Grows naturally in dry exposed sites, bank cuts, upland meadows and rocky outcrops.
Can be used to stabilize soils on exposed slopes. stream banks and erodable soils.
Will readily naturalize from seed.
Horticulture profile:
Zone 3 to 8
Grows 3 to 4 ft high with similar spread.
Prefers full sunlight to partial shade
Tolerant of dry, hot, rocky conditions. Prefers well drained soil.
Cut to ground in early spring to renew old plants.
Native to New England west to Minnesota, south to Georgia - Louisiana..