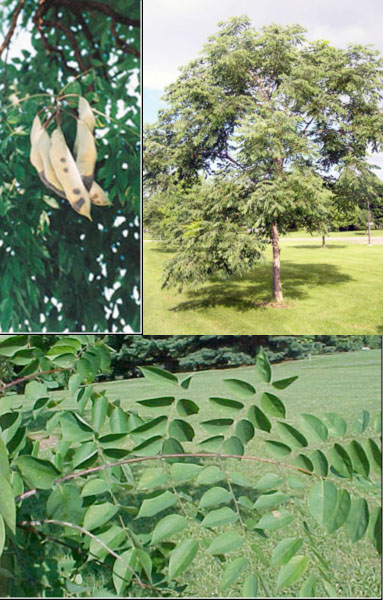 A beautiful fast growing shade tree. Foliage is superb and casts a fine filtered shade.  A choice hardy tree for large lawns, parks and street planting.
Ornamental features:
Rich bluish green large compound leaves.
Leaves can reach 2 ft across and 3 ft long.
Oval to rounded outline.
Wildlife value:
Unknown value, except for canopy nesting birds.
Horticulture profile:
Zone 3 to 8
Grow 60 –75ft Tall and 40-50ft Wide.
Medium to fast growth rate 15-20 ft in 10 years.
Adaptable to soil and moisture conditions.
Tolerates drought, pollution and high pH soils.
Extremely pest free.
Late to leaf out in Spring.
Tree is dioecious with female and male flowers on different trees
Large flat bean like pods develop only on female trees
Native from New York south to Tennessee.