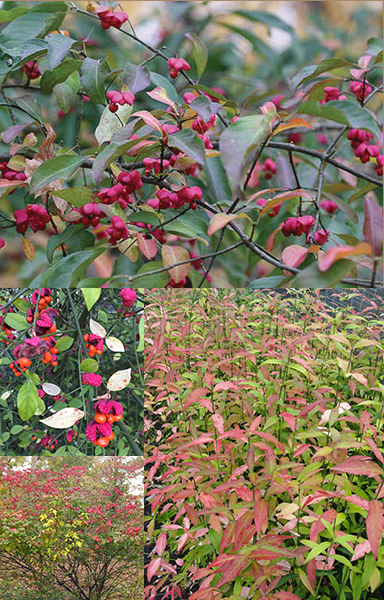 Strawberry Bush also called Wahoo and Hearts a Bursting is a multi-stemmed medium shrub. Primarily grown for its bright pink 4 lobed seed capsules that open in the fall to reveal bright orange to scarlet red seeds. Use in the shade garden, as an informal hedge or for naturalizing in part sun to shade.
Ornamental Features:
Grown primarily for its colorful pink seed capsules with bright orange seeds. Fall color varies with multiple shades of yellow, pink and burgundy.  Twigs and stems are a bright green. Useful shade tolerant plant.
Wildlife Value:
An understory shrub of open woodlands. Provides shrub cover in the woodland understory
Fruit readily eaten by songbirds.
Prefers dappled sunlight to light shade of woodlands, moist to mesic conditions, and a fertile loamy soil but adaptable to a wide range of conditions.
Readily browsed by deer and rabbits.
Horticultural Profile:
Multi-stemmed shrub 5 to 6 ft tall x 4 ft wide
Zone 5 to 9.
Partial to full shade, dry to moist, pH adaptable.
Selectively prune to develop form or for hedging.
Native to central and eastern US from southern Ontario south to Florida