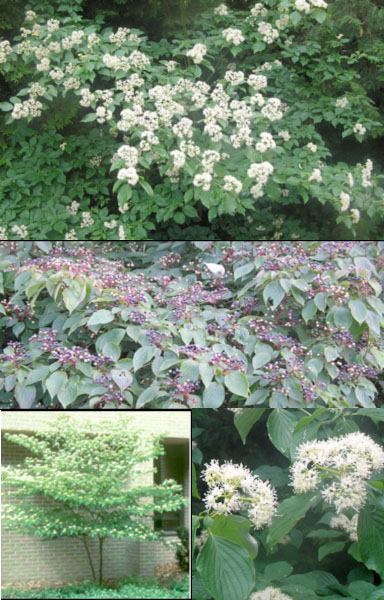 Very attractive small tree or large multi-stemmed shrub.
Ornamental in four seasons, displaying flowers, foliage, form, fruit and fall color.  Has multiple uses in the home landscape. Use as a specimen tree, in the shrub border, in massed groupings, for privacy screening.   A must plant for use in bird gardens and natural landscapes.  Also well adapted to shade and woodland gardens.
Ornamental features:
Creamy flowers borne in broad flat-topped cymes.
Produces abundant flowers in May with fruit in Sept.
Architecturally interesting horizontal layered branching pattern.  Outstanding fall color display.
Wildlife value:
Small fruits are important for migrating song birds.
A superb multi-purpose tree for attracting wildlife.
Provides habitat in the forest under-story and edge.
Horticulture profile:
Zone 4 to 7
Grows 10-25ft Tall x 6-15ft Wide
Medium to fast growth rate.
Good disease and pest resistance.
Full sun to half shade.
Prefers moist fertile soils but adaptable to soil and pH.

Native from Nova Scotia south to Florida.