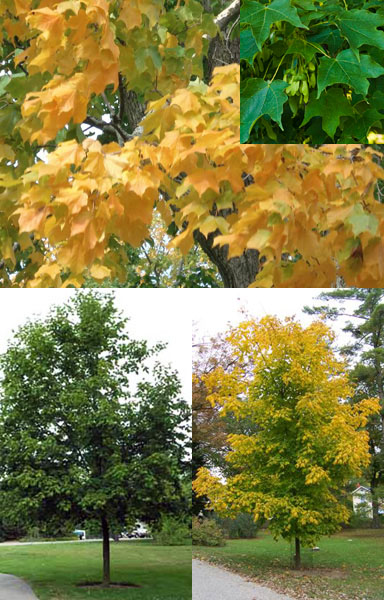 Black maple is a large stately shade tree similar to Sugar maple in form, leaf and habit.  It offers superior shade and exceptional hardiness.  It can withstand conditions that are dryer, hotter and more alkaline than Sugar maple making it very adaptable as a street and shade tree.
Ornamental features:
Develops a full rounded outline with dense branching. 
Clean pest free foliage provides excellent shade.
Fall color is reliably a bright butter yellow.

Wildlife and human value:
A dominant forest tree throughout the northeast often in association with Sugar maple, Basswood and Ash
Seeds are eaten by many wildlife species.
Horticulture profile:
Zone 4 to 8
Grows from 50 to 75ft Tall x 30 to 40ft Wide.
Slow to medium growth 10 to 12ft in 10 years.
Best growth on deep, well-drained circumneutral to alkaline soils. Long lived up to 200 years
More tolerant of dry sols and heat than Sugar maple.
Full sun to full shade. Very shade tolerant when young.
Native from southern Ontario, west to Iowa and Missouri, south to Tennessee.