Species Name: Porteranthus trifoliatus, Gillenia trifoliatus
Common Name: Bowman's Root
Zone: 4 to 8
Light: Full Sun to Light Shade
Soil Moisture: Moist to Medium to Medium dry
Soil Types: Sand, Loam, Clay, Well drained
Fertility: Medium to Rich
pH: 5 to 6.8 Acid to Neutral
Bloom Time: May - June
Habit: An underutilized attractive native wildflower. It grows 2 to 3 foot tall with an equal spread. It blooms from late spring to early summer. Bowman's root is a long lived, tough, drought tolerant perennial. Its broad shrub-like growth habit makes it desirable for use in mass plantings and other landscape uses where a broad full plant is needed. Plants are covered in white to light pink star like flowers in late spring that last for a couple of weeks. Foliage remains attractive throughout the summer with fall leaves turning golden yellow to bronze against the dark reddish-brown stems.
Numerous insects and butterflies are attracted to the bountiful flowers. The foliage is unattractive to deer and this quality should make it a desirable addition to most residential landscapes and for use in naturalizing wild lands.
Under natural conditions it can be found growing on exposed slopes, along woodland margins and in partial shade of dry to moist open woodlands.
It is relatively easy to grow from seed and will naturalize on its own when given the opportunity.

Star shaped flowers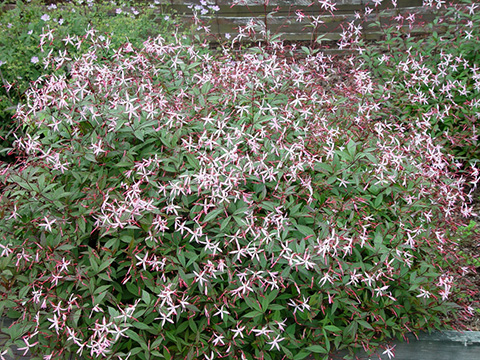 Plant in full bloom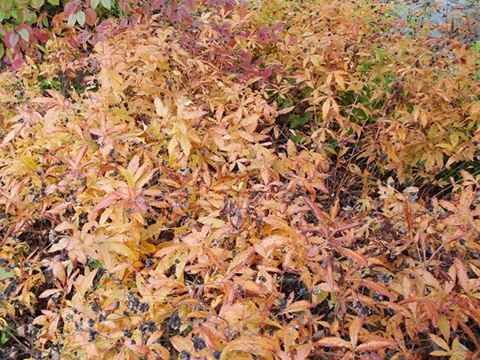 Fall color