Species Name: Monarda

didyma
Common Name: Scarlet Bee Balm, Oswego Tea
Zone: 3 to 7
Light: Full Sun to Partial Shade
Soil Moisture: Medium, Moist, Wet
Soil Types: Moist, Sand, Loam, Clay
Fertility: Medium to Rich
pH: 5 to 6.8
Bloom Time: July, August, 6 Weeks, Species Color is Scarlet
Habit:
A vigorous
perennial wildflower growing 3to 4

ft

tall. It spreads by an aggressive rhizomatous root system to form large colonies. Mint like aromatic foliage s resistant to deer browsing. Stiff upright stems are topped by showy rounded clusters of scarlet-red tubular flowers in mid to late summer. Flowers bloom sequentially over an extended 6-week period.

Nectar rich flowers attract numerous pollinator insects.
Bee balm thrives in moist to wet organic rich soils in sunny to partially shaded locations. It can be found in disturbed areas such as drainage ditches, and right of ways, in wet meadows, moist open woodlands, stream banks, flood plains and wet seeps.
It is an often used garden perennial with many cultivars offerings providing a range of color choices.

But only use the species for planting and naturalize in the wild.
It should be widely planted because of its deer resistance, hardiness and rapid spread and attractiveness to pollinators.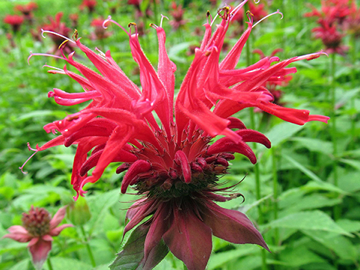 <![endif]>
<![if !vml]>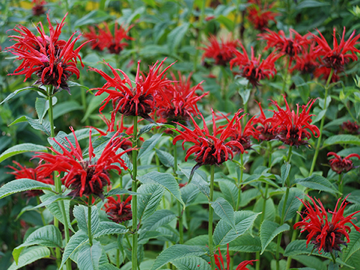 <![endif]>
<![if !vml]>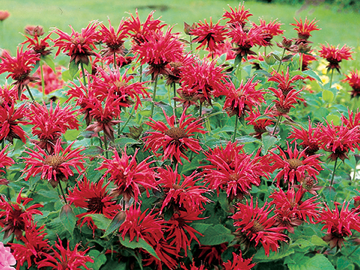 <![endif]>