Species Name: Filipendula

rubra
Common Name: Queen of the Prairie
Zone: 3 to 6
Light: Full Sun to Partial Sun
Soil Moisture: Moist to Medium
Soil Types: Sand, Loam, Clay
Fertility: Medium to High
pH: 5 to 7, tolerant of high pH
Bloom Time: July to August
Habit:
Queen of the prairie prefers rich moist soils in the garden or wet meadow.

It grows to 5

ft

tall with beautiful
soft plumes of fragrant bright pink flowers which attract numerous insects and butterflies. The foliage is large and deeply lobed. A large spreading plant once established, it requires room to spread and a consistently moist rich soil. It can be propagated by root division and with some difficulty by seed.
Native from Pennsylvania westward it is associated with calcareous soils. It has naturalized in other parts of the northeast. The rhizomatous root enables it to spread in moist soils forming large clones occasionally becoming aggressive in a garden situation. Considered relatively deer resistant.
<![if !vml]><![endif]>
<![if !vml]>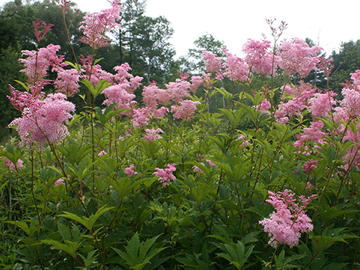 <![endif]>