<![if !vml]><![endif]>
Species Name: Eutrochium purpureum, Eupatorium purpureum
Common Name: Sweet joe-pye weed
Zone: 3 to 8

Light: Full Sun to Partial Shade

Soil Moisture: Moist to Medium dry

Soil Types: Sand, Loam, Clay

Fertility: Medium to Rich

pH: 5 to 6.8

Bloom Time: July, August, September

Habit: The most shade and drought tolerant of the Joe-pye weeds. Eutrochiuum p. is found growing in wet meadows to open upland woodlands, savannah and streamside riparian areas. It will tolerate moist to medium dry conditions in organic rich soils. A tall (5 to 7 ft) clump forming perennial the large vanilla scented flower heads attract a profusion of insects and butterflies in late summer. |An important plant for naturalizing in meadows and woodlands.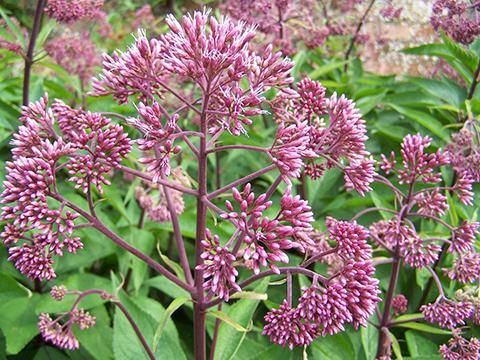 <![if !vml]><![endif]>